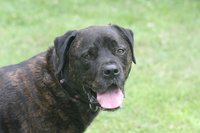 Diesel "Big D" Cooley
Diesel "Big D"
10/15/2006-1/7/2018
Diesel, our first "kid" and best friend, passed away peacefully at home with his mom and dad by his side after a battle with cancer.
This picture of Diesel captures him perfectly; always happy and a kid at heart. He loved his family immensely and never wanted to leave our side; he was also a great protector & even though he could look intimidating to some, was truly a big teddy bear. Diesel taught us to be better people due his unconditional love and loyalty to his family.
We tried to give Diesel a great life since the time we rescued him when he was 2 months old and he was with us through some of the best times of our lives. He joined us on several adventures; he loved running in the backyard next to the 4-wheeler, riding in the golf cart, going on hikes or walks with us and traveling to CT. He welcomed Ryker into our home in 2014 and the two eventually became best friends.
Now that Diesel is in Heaven's house (as Ryker calls it), may he run free, chasing birds and chipmunks, and pop bubbles all day. This has been the most heartbreaking decision we've had to make but we know he is resting comfortably and no longer in pain.
Diesel was the best dog ever and friend to all; we will miss him terribly & always remember him.