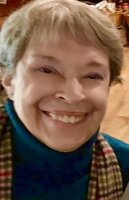 Anne L. Reber
October 2, 2021. Fondly known as "Lindsey" by family and friends. She is predeceased by her parents Arthur Lloyd Reber, Jr. and Marian Blake Jeffries Reber, her sister Barbara Estelle Tarr Whitney, brother-in-law John Robert Whitney, nephew Robert Wydler Whitney, and niece Marilyn Whitney Otten.
She is survived by her niece Elizabeth Whitney, nephews Mark (Lilian) Whitney and Kim Otten, grandnieces Lauren Turner and Hannah (Isaac) Anderson, grandnephews Joshua (Laura) Shrader, Bryan (Lynne) Turner, Robert Otten, and Emerson Otten, first cousins, Barry (Ann) Reber, David (Shirley) Reber, Sally Reber, Mary Kay (Tom) Black, Jon (Lori) Reber, and numerous second and third cousins.
Lindsey received her BA in History (1963) at Mount Holyoke College, South Hadley, MA. She was very involved with the Alumnae Association of Mount Holyoke College and served in the MHC Club of Genesee Valley in Rochester, NY. Lindsey organized club dinners, social gatherings, community events, and career networking opportunities. Over the years, Lindsey enjoyed attending mini-reunions with her classmates in New York City, and participated in the beloved Mount Holyoke College tradition, Alumnae Worldwide Mountain Day.
She went on to study at the University of London, UK where she earned a MA degree (1966) in the School of Oriental and African Studies. Her Thesis: "The Sulu World in the 18th and Early 19th Centuries : A Historiographical Problem in British Writings on Malay Piracy", is still found in numerous university libraries around the world.
After teaching Indonesian History in Australia for four years, Lindsey continued her studies at The University of Hull, UK where she earned her first PHD Indonesian History (1977). Her Dissertation: "The Private Trade of the British in West Sumatra 1735-1770" has been referenced by countless scholars.
Lindsey then returned to the U.S. to further her graduate studies at Cornell University, Ithaca NY, where she received a MS in Indonesia History, Emigration and Immigration - Government Policy; and then earned her second PHD after completing her studies in the Southeast Asia Program (1984). Dissertation: "Spontaneous Migration and Indonesia's Transmigration Policy: A Linear Programming Model".
Lindsey enjoyed a career as Senior Librarian at several reputable universities in the U.S. She also served as a subject matter expert in Southeast Asian History. Her three works listed above are in 14 publications and 28 library holdings worldwide.
Her family will receive friends Saturday, October 9, 2021 from 3:00 - 4:00 pm at the funeral home where her funeral service will follow at 4:00 pm. Interment will be held in private.
In lieu of flowers, online memorial contributions may be directed to Mount Holyoke College, in honor of Anne Lindsey Reber, Class of 1963, designated to Library Fund at https://alumnae.mtholyoke.edu/give/.
Mail-in Contributions:
Alumnae Association of
Mount Holyoke College
ATTN: Founder's Fund / Library
50 College St.
South Hadley, MA 01075-1486