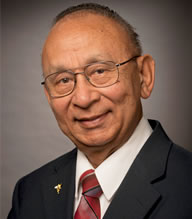 Obituary of Dr. Buddhi M. Shrestha
Dr. Buddhi Shrestha, DDS, MS, PhD
Dr. Shrestha was born in a small village 50 miles from Mt. Everest and always had goals as lofty as this mountain. He was granted a scholarship to medical school by the king of Nepal, but on the day of his entrance interview he became ill with typhoid and missed his opportunity. Nevertheless, he persisted and more than a year later he applied for a scholarship to study dentistry. He was awarded a prestigious four-year Colombo Plan Scholarship that enabled him to study for, and receive, his dental degree from Punjab University, Amritsar, India, in 1963 thereby becoming the first medically qualified dentist in Nepal. In addition to his clinical skills, he went on to have a long and distinguished career in dental academia.
Following government service as head of the Dental Department, Government Hospital in Biratnagar, Nepal, he received a Fulbright Scholarship in 1967 for advanced clinical training in the United States. He completed the General Dentistry program at Eastman Dental Center in 1968 and was awarded an EDC graduate fellowship for training in Pediatric Dentistry at EDC and for studies leading to a Master's degree in Dental Science at the University of Rochester. He received his Pediatric Dentistry certificate and the Master of Science Degree in Dental Science in 1970. Subsequently, he applied for, and received, an individual National Research Service Award from the National Institutes of Health in 1975 to study pathology at the University of Rochester and earned his Ph.D. Degree in Pathology in 1980.
In 1981, Dr. Shrestha joined the faculty of Fairleigh Dickinson University School of Dentistry as Director of the Division of Nutrition and Cariology. He was also appointed as Adjunct Associate Professor in the Department of Pathology at Fairleigh Dickinson. He remained at these posts until the dental school closed in 1985. During this period, he focused on teaching and research, and contributed important papers on the potential efficacy of the use of calcium lactate as a cariostatic food additive and of titanium tetrafluoride for the prevention of dental caries. He also directed Fairleigh Dickinson's research group in a collaborative multi-institutional effort to develop an animal caries model for testing the decay-causing potential of food, under the auspices of the ADA Food, Nutrition and Dental Health Program. He was invited to present the group's findings at the San Antonio Consensus Conference in 1985.
Following the closure of the Fairleigh Dickinson School of Dentistry, he returned to Rochester in 1985 and joined the Jordan Health Center as staff pediatric dentist. In 1991, he was appointed to the faculty of the Departments of Community Dentistry (part-time) and Pediatric Dentistry (part-time) at Eastman Dental Center, University of Rochester.
Dr. Shrestha went on to serve as the full-time Director of the Community Dentistry Program at Eastman Dental Center, University of Rochester. He expanded the program dramatically in response to local and regional demands for care. Noteworthy among his achievements was the care he made available for the first time to older elementary school children, to middle school children, to high school children, to rural children, and to children outside of the school environment. Dr. Shrestha's work and impact on children's oral health were instrumental in shaping health care goals and policies at both the local and state levels. After his retirement from EDC, he was invited to join the NYS Dept of Health Office of Managed Care, Medicaid Dental Managed Care Work Group in Albany, a role in which he represented Rochester and the Finger Lakes region interests. His studies helped guide NYS health planners in the development of protocols for the provision and payment of services under the Medicaid and Child Health Plus Programs. On his own initiative, Dr. Shrestha organized a successful statewide petition campaign for recognition of school-based dental health programs as effective public health measures that enhance access to dental care for under-served children.
His professional awards include:
1992 – Award in recognition of being the First Nepali Monroe County resident and for his 25 years of outstanding community service, Association of Nepalis in America
1992 – Recipient of a community service award (1992) by the County of Monroe
1995 – Awarded a certificate of appreciation by the City of Rochester (1995) for his outstanding contributions, dedication, and efforts in the City Neighbors Building Neighbors Planning Process.
1999 – Kenneth W. Woodward Award presented by the Rochester Primary Care Network for dedication and zeal in ensuring that low-income children have access to essential oral health care.
1999 – He was nominated by the NYS Dept of Health, Bureau of Dental Health, for the Axelrod Award, the highest honor given by the NYS Public Health Association.
2001 – Department of Health & Human Services, US Public Health Service Regional Health Administrator's Award to Rochester Oral Health Coalition for Contributions to Elimination of Racial and Ethnic Disparities in Health
2016 – Myron Allukian, Jr. Lifetime Achievement Award in recognition of more than 35 years of outstanding service to improving oral health and public health on the local, state, and national levels.
2017 – Director's Award and Certificate of Appreciation from University of Rochester, Eastman Institute of Oral Health for Contributions to the Smilemobile Program
2018 – President's Award in appreciation of 50 years of advocacy, outstanding dedication, commitment, and passion for supporting healthy communities
2019 – Anthony L. Jordan Health Corporation, Board of Directors Recognition for Outstanding Commitment & Services to the mission of Jordan Health.
Prior to his passing, Dr. Shrestha resided in Penfield, NY with his wife, Sheila, a retired Research Associate Professor, University of Rochester. His interests include golf and ballroom dance. He was active at St. Kateri Tekakwitha Church. He is survived by his wife, Sheila, three daughters and one son, nine grandchildren, and two great-grandchildren.
His family will receive friends Sunday, October 10, 1:00 - 4:00 pm at the funeral home (570 Kings Highway So.). Friends are invited to meet the family Monday, October 11, 10:00 am at St. Kateri At Christ the King Church for his funeral mass. Interment White Haven Memorial Park. In lieu of flowers, memorials may be directed to Anthony L. Jordan Foundation, 823 Holland Street, Rochester, NY 14605, House of Mercy, 285 Ormond Street, Rochester, NY 14605 or to St. Kateri Tekakwitha Parish, 445 Kings Highway South, Rochester, NY 14617.
Proudly serving Irondequoit, Webster, Penfield, Pittsford, Brighton, Fairport, Mendon, Victor, Henrietta, Rush, Ontario,
​Williamson, Sodus, Macedon, Greece, Gates, Chili, Spencerport, Brockport, Hamlin, Hilton, East Rochester