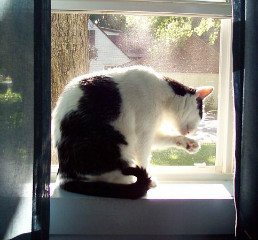 Obituary of Eric Demar Clapton
Clapton came to us through a pet adoption service in Rochester, NY. I saw him there after losing my dear, Mocha, siamese cat of 19 years. He licked my hand and I knew then we were meant to be together.
We brought him home. Our Dear Vet. Dr. Bostley checked him and found a heart condition. We had him ulta sounded and it was bad news. Neither we nor he gave up. Twelve years of loving life followed!!!
Dr. Bostley called him "The Gentle Giant". The name stuck.
Seventeen pounds of love and kindness has left us. But he will be in our hearts a souls forever.
Proudly serving Irondequoit, Webster, Penfield, Pittsford, Brighton, Fairport, Mendon, Victor, Henrietta, Rush, Ontario,
​Williamson, Sodus, Macedon, Greece, Gates, Chili, Spencerport, Brockport, Hamlin, Hilton, East Rochester