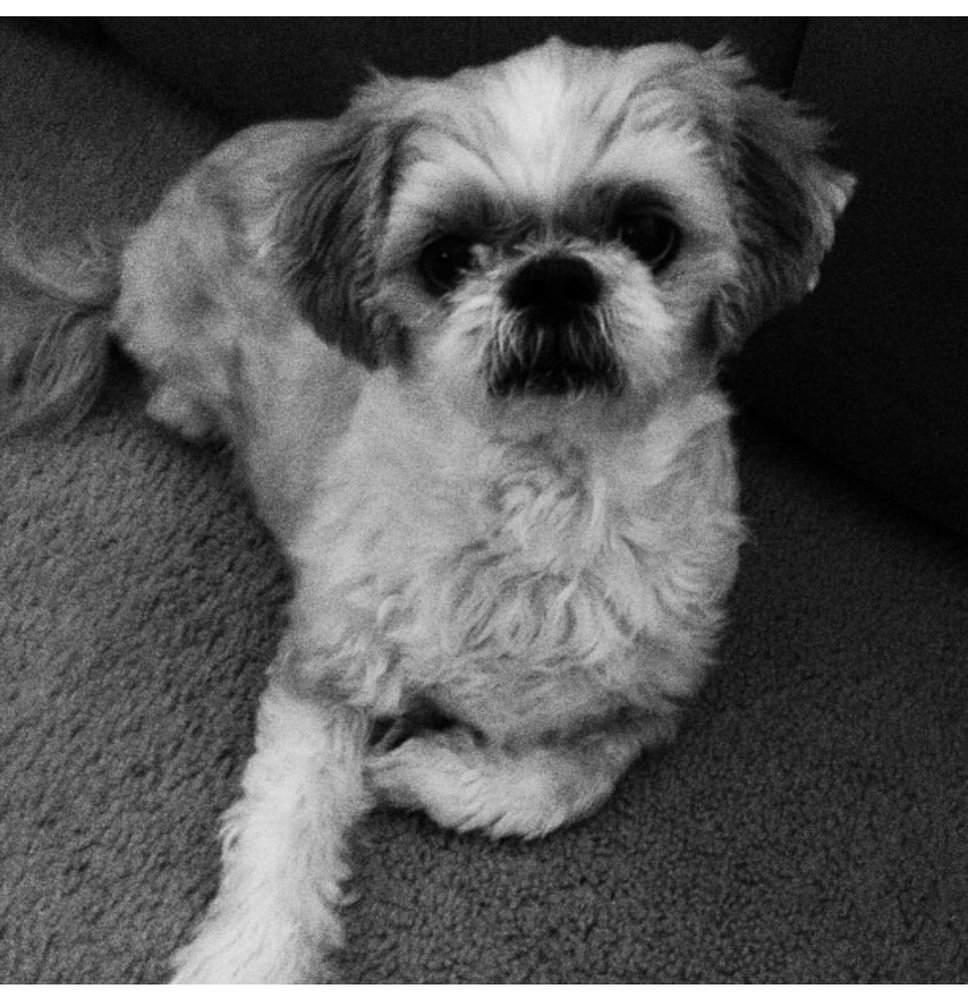 Obituary of Teddy LaManna
Please share a memory of Teddy to include in a keepsake book for family and friends.
Teddy Bear (Teddy) walked into our lives on Christmas Day in 2001. He was just a few months old, one of the last remaining in his litter. When my parents picked him out for us, they knew they hit the jackpot with this little guy. On Christmas morning my brother and I went into the living room and we were told to "open that one first"...it was a big Christmas table cloth draped over a big square object. So together (still a little sleepy and slightly confused) we removed the table cloth to reveal a little fuzzy ball of fur with a wagging tail. It was the newest member of our family. In shock, my brother and I eventually opened the cage and let the fur ball loose and he immediately jumped all over us showering us with his little puppy kisses. I still remember him getting all excited and running around through ripped wrapping paper like it was a big doggie playroom. We sat and pondered names, knowing Teddy Bear was the one that suited him most perfectly. Days went by and even years, we all grew very attached to this little pup along the way. He had a few minor "naughty moments"...trying to run up the street while we chased him and cars were slowing down, even sneaking out of our grandma's backyard to head toward home and giving us all a big scare til we found him. No matter what little puppy crime he committed, he was still truly the best dog and we all knew it. As he grew a little older, his health began to change. In 2013, Teddy was diagnosed with a splenic mass and was brought in for surgery. As if that weren't enough, he also had some bladder stones that his awesome surgeon removed while he was anesthetized that same day. Much to our surprise, Teddy thankfully made a great recovery and went on to continue to steal hearts. Just two years later, March 2015, Teddy went on to have surgery to remove one of his eyes from a quickly progressing glaucoma. Once again, our little trooper bounced right back as if nothing happened. Until of course Thanksgiving time that same year, when he eventually had to lose his other eye from yet another persistent glaucoma. Our family was crushed at first because it was difficult to look at our "oogie bear" without any eyes. We were thankful he was pain free and alive and thriving! It took some time to adjust (for all of us, including Ted of course) but our warrior never ceased to amaze us with his resilience and willingness to push on. As long as there was food and a comfy place to sleep, Teddy was content and still acted as though he never skipped a beat. As the next year or so went by, we started noticing more changes to Teddy's behavior. His hearing was starting to worsen and he seemed to be becoming a bit senile. He would bark at nothing or just sit and face a wall, or even pace constantly like he was unsettled for some reason. He started having episodes where he would randomly collapse while walking and we thought it may have been due to his luxating patellas (or floating knee caps in non medical terms). Once again with a little reassurance and care from Dr. Blitz, Teddy kept on for another few months or so. He didn't let anything stop him from being his stubborn little Shih Tzu self. He played like a puppy and ate like a pig. Around the weekend of October 20, 2018 my parents contacted me with concerns about our Ted. My mom told me she was worried because he had been having collapsing episodes again, only this time he would lose control of his bladder or bowels and appear to be unable to get up. Deep down I wondered what the heck could be going on, but I didn't think much of it at first because well it was Teddy and he didn't let anything stop him so I thought he would be fine. I was wrong this time. I had my mom drop him off to work on Tuesday 10/23 so we could take a look further into what was going on. We noticed a change in Teddy's breathing pattern which immediately drew concern for us. Dr. Blitz and I did an exam and she ordered some radiographs and bloodwork. His radiographs didn't seem to have anything major stand out other than a possible bronchitis. His bloodwork really only revealed an elevated white blood cell count which indicated an infection somewhere. We decided to try antibiotics to see if it would help improve things. When I left work I took him home to my parents' and monitored his behavior until they got home from work. This was when red flags began to pop up and I knew my Teddy Bear wasn't doing well. He wasn't himself, more quiet than usual and a bit lethargic. He would rest comfortably in my lap which wasn't like him since he became older and unsettled. At random times he would sit up and have little episodes where he seemed panicky and his breathing then began to worsen. At one point his gum color was pale which I knew meant he wasn't receiving adequate oxygenation. He'd finally settle a bit and when my parents arrived I told them I was bringing him back to work to provide oxygen therapy for him and see if it would make any difference. Once I got back to work and placed him on oxygen, his condition almost immediately seemed to improve. He seemed to like the oxygen because he would rest comfortably and doze off. I kept in contact with Dr. Blitz over the next few hours and informed her about his progress. She suggested seeing how he does off of oxygen to see if going home for the night was an option for him. Unfortunately within minutes or less of being off oxygen his condition continued to worsen. We knew it was time and there was nothing more we could do. My parents, my brother, and my husband arrived to be with Ted and surround him with love. We shared memories of all the 17 years we spent with him. Dr. Blitz came in and gave him his sedative to relax him a bit more and we waited. Knowing how much Teddy loves food, I went and grabbed some of the good stuff and of course he gobbled it right up. Even struggling to take breaths that little stinker wanted something to snack on. In just a few moments following, his breathing eventually slowed until it came to a stop and that was when we knew our pup had crossed over the Rainbow Bridge. We all shed tears and spent our last few moments with him together. It was definitely the hardest goodbye for our family. Our Teddy made such an impact on our lives and we will definitely never forget him. He truly was one of a kind. Until we meet again my Teddy Bear. I love you forever and always
A Memorial Tree was planted for Teddy
We are deeply sorry for your loss ~ the staff at Paul W. Harris Funeral Home
Online Memory & Photo Sharing Event
Ongoing
Online Event
About this Event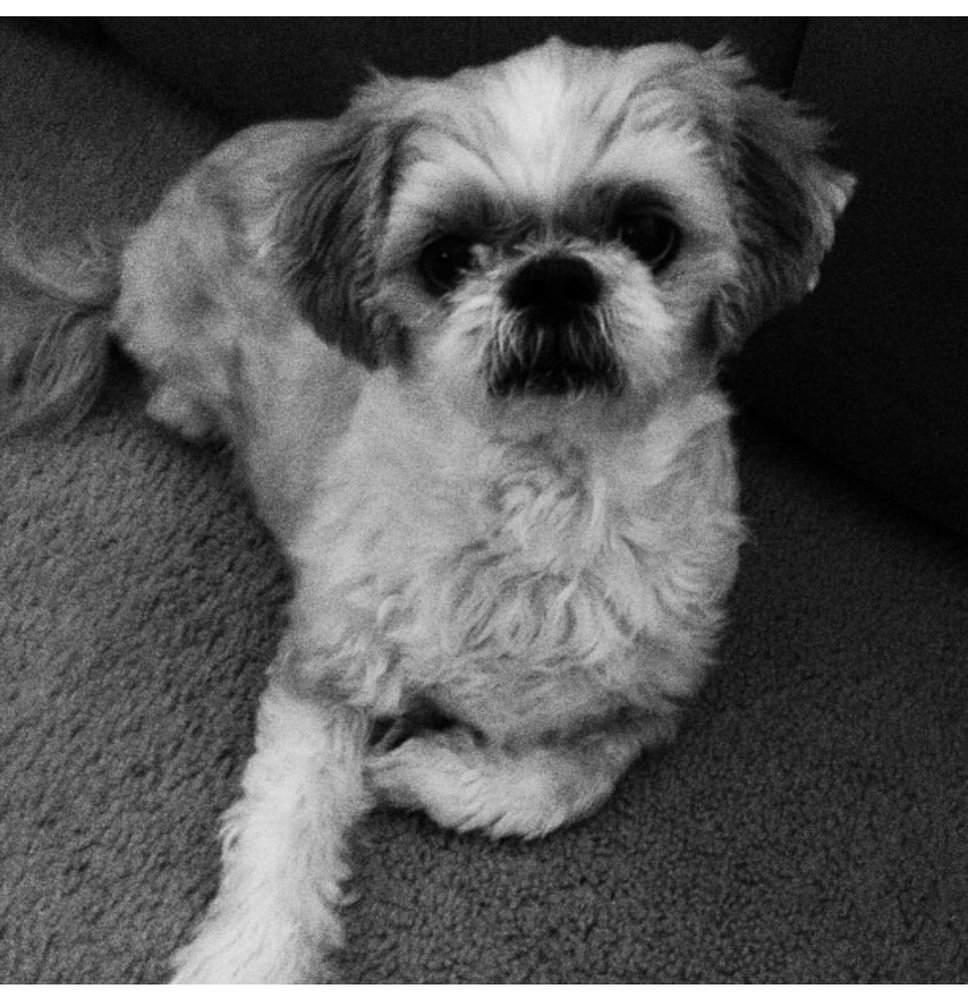 In Loving Memory
Teddy LaManna
2001 - 2018
Look inside to read what others have shared
Family and friends are coming together online to create a special keepsake. Every memory left on the online obituary will be automatically included in this book.
Proudly serving Irondequoit, Webster, Penfield, Pittsford, Brighton, Fairport, Mendon, Victor, Henrietta, Rush, Ontario,
​Williamson, Sodus, Macedon, Greece, Gates, Chili, Spencerport, Brockport, Hamlin, Hilton, East Rochester