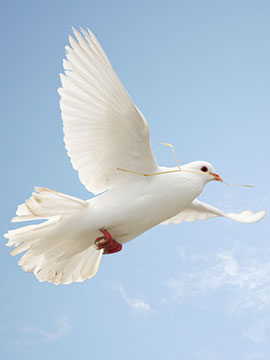 Obituary of Rocco Carmello Ioannone
Rocco came to us in February, 2003. He was 5 months old. He was a funny quick witted little tease. From the first hour in our home, he intimidated his older and much larger brother Barney Rubble. They would not play inside the house, but instead had a rivalry for who was going to be the "Top Dog". Yet, Outside they would play run around and wrestle. They did however sleep together next to one another at night. Until Rocco turned 3, he had a bad habit of just bolting out the front door. It would require at least a half hour foot chase through all of the neighbors yards until he decided he was going to get caught. One cold rainy afternoon in mid November, Rocco took off and headed straight to the Canal which was about 200 yards from our home in Fairport. He jumped into the canal to play with the duckies. I in turn, jumped in after him. Our neighbor Franny met us at the road with her car and he jumped right in. She then scolded me for not giving him a biscuit because he had gotten the car like a good boy. What happened to the fact that he had taken off and led me on a wild goose chase into the canal to fetch him. Rocco was truly a sweet gentleman of a dog. We could and did many times leave food on the coffee table when guests would be coming over. I would look at Rocco, point to the table and say "No No, don't touch" and he never in 12 1/2 years took something off of the table. He would of course wait for whomever he had decided to dig his sad puppy dog eyes into to get there and get his hand outs. My Aunt, Joann Toscano used to always say "Don't Knock the Rock" when I was scolding him for begging. When I told her that he was not to have anything from the table I got a look and a "Who do the hell do you think you're talking to" from her. Then she went back to feeding the little piggy.... Rocco was great with the kids. He would play with them, get treats from them, etc. The kids all knew though that when he went in his corner it was time for him to rest. Rocco would love to go to his Uncle Robbie's house for afternoons on the deck or wherever in the house he decided to roam. If we had steak at Robbie's, Rocco had steak. Not too spoiled. When we would go out of town he would stay his vacation at his Auntie Joanne and Uncle Dave's house. He was allowed to do whatever he wanted there. Heck, he never even missed us....lol In 2009 we lost Barney Rubble. Rocco did take the loss hard for a week or so. He then bounced back. He would look forward to visits from Gramma. She would come from Albany and spoil him into oblivion. Happy meals from McDonalds, car rides, all the cookies he wanted. As time went on, so did our lives. Rocco was always the center of life and love in our home. No one ever came over that did not love Rocco or say he was one of the best behaved dog's they had ever met. He was loved by one and all. Rocco aged gracefully as we all do. By December of 2014 he had lost most all of his hearing. But, we still communicated with hand lingo. He pretty well had us wrapped around his little paw, and he knew it. All was well until 2 days before he passed. He started getting really slow and acting sort of confused. He left us a beautiful spring morning, May 6, 2015. The sun was shining, the birds singing and a slight breeze was in the air. Rocco, go and meet Barney at the Rainbow Bridge, see Gramma and all of our relatives and friends. Play, run and have all of the treats you care to have. We will meet you again some day soon. Until then, know that you are now and always will be loved.
To plant a beautiful memorial tree in memory of Rocco Carmello Ioannone, please visit our Tree Store
A Memorial Tree was planted for Rocco Carmello
We are deeply sorry for your loss ~ the staff at Pets at Peace by Harris Funeral Home
Proudly serving Irondequoit, Webster, Penfield, Pittsford, Brighton, Fairport, Mendon, Victor, Henrietta, Rush, Ontario,
​Williamson, Sodus, Macedon, Greece, Gates, Chili, Spencerport, Brockport, Hamlin, Hilton, East Rochester
Contact Us
570 Kings Highway South
Rochester, New York 14617

50 Dubelbeiss Lane
Rochester, New York 14622
Questions?

Refresh
Please enter the numbers and letters you see in the image. Note that the case of the letters entered matters.
*
:
There are some invalid fields.
Please wait...